PRE- OWNED HOLIDAY HOMES
For sale at the Dinas Country Club Holiday and Caravan Park
During the year, Dinas Country Club has several pre-owned Holiday Homes that are available for sale. All Holiday Homes are subject to availability. Please see some of styles of Holiday Homes that are available. If you would like to discuss purchasing a Holiday Home in Dinas Country Club, please Contact Us.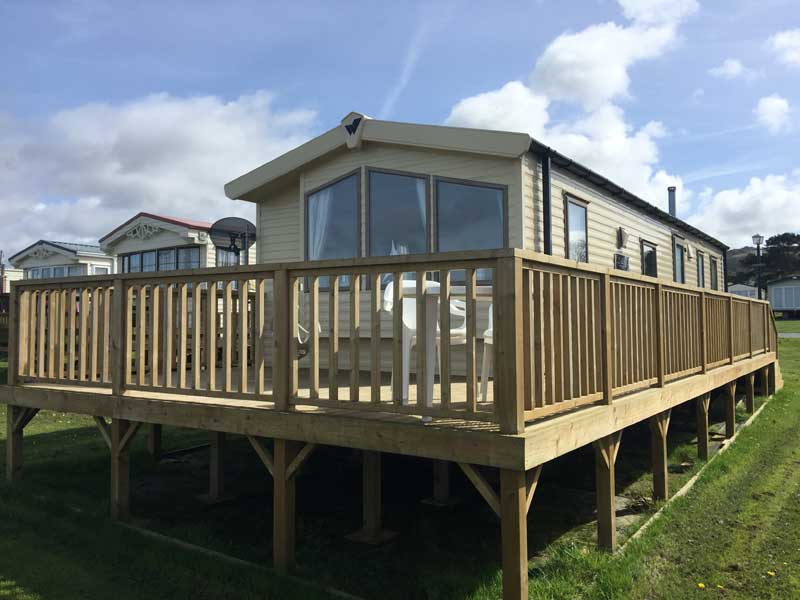 WILLERBY SALSA ECO 2014 HOLIDAY HOME
::SOLD::The Willerby Salsa Eco 2014 is a wonderfully modern and attractive holiday home that is bright and spacious. With fantastic sea views over the North Pembrokeshire coast and a beautiful large veranda allowing you and your family to soak up those lovely evenings. This 6 berth holiday home has a spacious double bedroom with ensuite toilet and 2 double wardrobe. It has a smaller twin room with a further wardrobe. The fully equipped family shower room is light and spacious, featuring a modern tiled shower, toilet and sink.
The classically designed lounge area features plenty of seating and a cozy sofa bed to sleep a further 2 people. The caravan has double-glazing and electric heaters in each bedroom and washroom helping to keep you warm and comfortable even during the colder spells, on our coastal park which season extends from March 1st through to January 7th.
The caravan is for sale priced at £24,000 offering 12 years of life, the holiday home is sited next to the famous Pembrokeshire coastal path from where you can enjoy short walks to 3 pretty beaches and coves. If you would like any more information please get in touch.
WILLERBY WINCHESTER HOLIDAY HOME
:: SOLD::  The Willerby Winchester is built to a high specification. Tastefully furnished this 40 x 12 foot, 2 bedroomed, 6 berth caravan with galvanised chassis is a first class getaway. Situated on the Pembrokeshire coast, within the famous national park, is within 10 minutes walk to 3 beaches. The caravan has a full sized bath. Fitted with double glazing and central heating, this holiday home will allow you the comfort to enjoy throughout the 11 month opening season (from 1st March through to the 9th January) allowing you to spend Xmas and new year away from it all. This caravan comes with 10 years of life on park. The caravan is priced at £27,250 to include siting to all mains and services. This preowned caravan represents a great value package, characterised by spacious, generously proportioned rooms and plentiful storage space. Click on the images below for more details.
2 Bedroom, 6 Birth
Bathroom & En-Suite
40 x 12 Foot
Fully Fitted Kitchen
£27,250